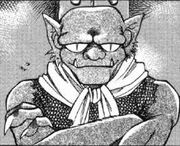 A weak goblin who originally was found in the Terror Tower, he stopped players from entering due to loading time of the boss, He is later killed by Boromir. Later he is seen as the general of the demon army assaulting Luciferia. He of course made no real impact on the events being likely killed in the onset.
Ad blocker interference detected!
Wikia is a free-to-use site that makes money from advertising. We have a modified experience for viewers using ad blockers

Wikia is not accessible if you've made further modifications. Remove the custom ad blocker rule(s) and the page will load as expected.