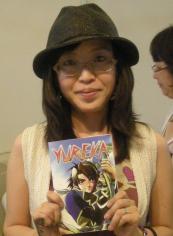 Kim Youn Kyung (김윤경) is a manhwa artist. She illustrates Yureka, which she works on with
Son Hee-Joon
. Her birthplace is South Korea.
Kim's current project and most widely acknowledged work is Yureka, the subject of this wiki.
Other Titles
Edit
Ping (2007)
Edit
Ping (핑) is a manhwa illustrated by Kim, and is in the martial arts and supernatural genres. It is authored by Lee Chong Kyu. Its original publisher is Daiwon and it is serialized in the magazine Young Daiwon. It is not licensed in English. It is complete at five volumes and has been completely scanlated.
Ad blocker interference detected!
Wikia is a free-to-use site that makes money from advertising. We have a modified experience for viewers using ad blockers

Wikia is not accessible if you've made further modifications. Remove the custom ad blocker rule(s) and the page will load as expected.