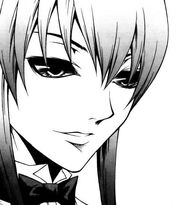 The bartender at an online bar frequented by killers including
Elca
and other shady members of the black market. He is extremely capable, even against skilled killers. He is an NPC, likely a highly advanced AI, who was discarded by his creator, who considered him a failure. He now works for
Myung-Gun
in an undefined role, though Myung-Gun describes him as his "supporter" and he seems to function, among other things, as a bodyguard. Lotto originally thought "J" may stand for joker. He claims to have no true name, but has always been called "J". He is also extremely powerful.
Ad blocker interference detected!
Wikia is a free-to-use site that makes money from advertising. We have a modified experience for viewers using ad blockers

Wikia is not accessible if you've made further modifications. Remove the custom ad blocker rule(s) and the page will load as expected.